Baby Loss Awareness campaign - Events
Many events are planned across the UK, providing the opportunity for bereaved parents, their family and friends, to join together to commemorate the lives of their precious babies. We would be delighted to welcome you to any of the events being held in the days surrounding International Pregnancy and Infant Loss Awareness Day on October 15th.
Many events are currently being planned throughout the UK. Please note that these are subject to change or cancellation at any time. Further details including venue, date and time, and contact information can be obtained by visiting the Awareness Campaign website.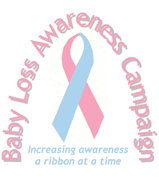 Organising your own event
For ribbon pins, media releases and campaign posters, visit our Resources page
We would be delighted to provide support, encouragement and information to anyone who would like to organise their own events as part of the Baby Loss Awareness campaign. We can help to publicise your event, and perhaps put you in touch with other volunteers in your area.
Please get in touch.